Add-ons
Add-on Expiry
Especially when it comes to purchased, licensed assets, there is a duration of use . With the help of expiration periods, you can set the start and end of the use of assets directly at the asset.
Tip: We have compiled an informative overview about the Add-on Expiry.
To set a start date and/or expiration date, open the detail view of an asset. In the category "System" both information are stored.
In order to quickly obtain the important information when a start or expiration date is set for an asset, this information is already visually highlighted in the results list.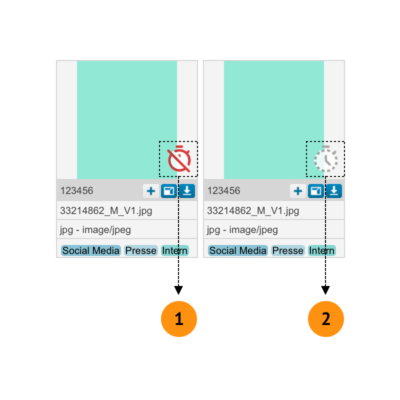 Explanation:
(1) Expiration period is in the past
(2) Expiration period is set and the start date is in the future.
The user who uploaded the asset to Manja receives an email in good time when the asset is about to expire ("Please check: Rights of use are about to expire").
This ensures that, if necessary, e.g. the purchase license from the provider of the asset can be renewed in time or the asset is removed from the pool of available assets (for download).
Automation can be created for expired assets. This means, for example, that expired assets should be automatically moved to a specific category. Or that e.g. expired assets can no longer be downloaded. Depending on the use case, this automation is stored in the configuration file of the add-on.
For administrators
If an automation is desired, please contact us. We will be happy to set up the desired action for expired assets for you.