Latest, 27. March 2023
Version 4.44
New Manja skin, New file format support for 3D models, New security level with WebAuth (Fido2), Improved Azure Active Directory (AAD) integration via OAuth2
Modern look and feel with the new Manja skin
Back to top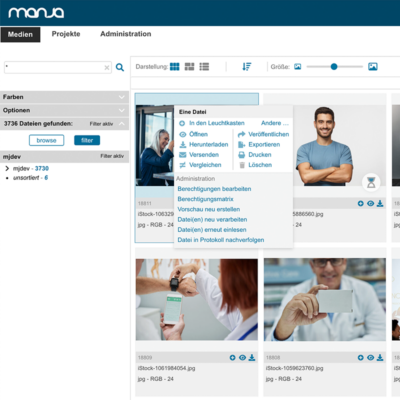 We are proud to introduce the new skin of our Manja DAM. With this release, we've done a major redesign to create a more modern and appealing user interface.
One of the most important new features is the use of scalable vector graphics (SVG). This improves the display on different devices and optimizes the loading speed.
Additionally, we have also incorporated new colors into the design for a more modern aesthetic. The new colors are fresher, brighter and make the user interface look more appealing overall.
We also redesigned the input fields to create a more consistent and user-friendly experience. The new input fields have clean lines and are easy to read, making it easier to navigate the system.
Our Digital Asset Management now supports 3D models. This allows you to manage and use gltf and glb files in our system.
The integration of 3D support offers many new possibilities to work with these files. You can now store, organize and manage 3D models in your Digital Asset Management. This is an especially important feature for companies working in architecture, construction, food, medical, gaming or VR.
With support for gltf and glb files, you can also seamlessly export your 3D models to other applications or platforms. This enables more effective collaboration with other companies and makes it easier to share files and projects.
Our Digital Asset Management also offers a 3D model preview feature that allows you to preview files directly in our system without having to open a separate application.
We are excited about the new possibilities that come with the integration of 3D support in our Digital Asset Management. We hope our users find this feature as useful and exciting as we do.
The DAM Manja now supports FIDO2 as a new WebAuth authentication option. FIDO2 is an open authentication standard based on public-key cryptography that provides higher security and user experience.
Thanks to the integration of FIDO2, our user:s can now perform secure and fast authentication without relying on complex passwords or other time-consuming authentication methods. Instead, they can simply log in with their FIDO2-enabled hardware authentication (e.g. YubiKey), providing a higher level of protection and convenience.
The integration of FIDO2 as a new WebAuth authentication option is another step in our ongoing effort to improve the security and usability of our digital asset management.
The new feature can be found under "My Account" > "WebAuth Fido2 Authentication".
Improved Azure Active Directory (AAD) integration via OAuth2
Back to top
Thanks to this enhancement, our users can now use a more secure and seamless login via their Azure Active Directory account to access our DAM solution. This not only reduces the need to manage separate credentials, but also provides a higher level of security and control over access to our platform.
The AAD integration also allows us to better manage access to our DAM solution by giving us the ability to import user groups and roles directly from the AAD directory. This makes it easier to assign permissions and manage user access to our platform.
New XMP & IPTC import and export rules for dates and times
Back to top
These new rules allow our users to manage and synchronize more accurate date and time information in their metadata. With these rules, users can import and export date and time information in different formats to ensure that the information is accurate and consistent.
Support for timezones in XMP outgest and in EXIF data
Back to top
In addition, our DAM system now supports timezones in XMP Outgest, which means users can store and view metadata in different time zones without sacrificing accuracy and consistency. This feature is especially useful for companies that operate internationally and work with different timezones.
Another important improvement is support for timezone offsets in EXIF data. Users can now accurately capture and store the time zone in which images were taken, which is especially useful when images are taken in different locations or when multiple users work in different time zones.
Extension of download formats with new function "upscale image
Back to top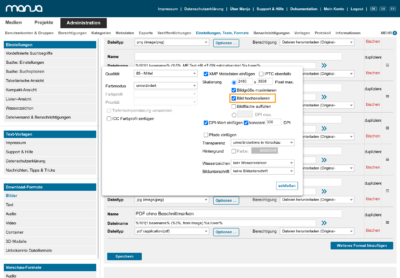 Our DAM offers a new setting option that allows images to be automatically resized to a specified pixel size. With this feature our user:s can ensure that the content of an image always fills the full area of the scaling, even if the image is smaller than the specified width and height.
Automatically resizing images to a specific pixel size is especially handy when you need to ensure consistent image sizes or when you need to use images in a specific format or layout. With this feature, our users can quickly and easily generate images in the desired size without having to manually scale or edit.
Our new setting option ensures that images with a smaller size than the specified width and height are enlarged proportionally, while images with a larger size are reduced accordingly. This ensures that the image always fills the full area of the scale while maintaining the aspect ratio.
With the improved time zone feature, the time including the time zone is included as information in notifications about expiring files.
This means that users now have a clearer and more accurate idea of when a particular file expires or is due, regardless of their geographical location. Users can set the time zone in their profile to ensure that all notifications are displayed in their local time zone.
Optimized time zone mapping is relevant for organizations that operate across multiple locations or geographic regions where accurate time zone mapping is critical. With the ability to customize the time zone, users can ensure they are always up to date and don't miss important dates or deadlines.
Content comparison extended by Office documents
Back to top
With this new feature, our users can compare Word, spreadsheet, and PowerPoint files and see the differences in a user-friendly comparison view.
Content Compare reads the contents of the documents and displays the differences in a clear and easy-to-understand view. This feature is especially handy for team members who need to review revised versions of documents. The comparison process is fast and efficient and saves users valuable time by making all changes in a document visible in a simple way.
This now also includes ignoring shifts in layout and recognizing text fragments that belong together.
With the new version there is an improved syntax parser, which optimizes the display of the Manja template syntax.
We have also improved the detection and display of syntax errors. This is especially helpful for notification templates. With this improvement, users can quickly see where there are syntax errors and fix them before saving and using their templates.
Search syntax has been extended with more input options
Back to top
Search syntax has been improved in three key areas to make finding assets even easier and more efficient:
First, metadata fields in search queries can now be specified by their name, rather than by their meta ID. This makes using the search syntax much more user-friendly and intuitive. Also, as you type, names are suggested by autosuggest, which makes using search syntax even more practical.
Example: $text-contents vulnerability or $title Coca Cola.
Second, we have significantly improved support for fields from Exif and Tiff metadata, as well as some other fields. With the new release, constraints with spaces, slashes, and fields from these groups can be easily used in search queries. This means that our users can now easily search for assets that contain specific camera settings, date, time and many other data.
Examples:
$exif-make "Canon"
$exif-copyright "?*"
$tiff-scanner_model "?*"
$tiff-scanner_manufacturer "?*" and not ( leica or sinar or canon or hasselblad or "phase one" )
Third, we have also improved the overall performance and reliability of the search syntax to ensure that our users can quickly and effectively search for assets they need. We have worked closely with our customers to ensure that the improvements to the search syntax meet their needs and optimize their workflows.
Add-on versioning: Improved version overview with marked changes
Back to top
From now on it is much easier to see which changes have been made to an asset in the version overview. There are two important new features for this:
First, it is now possible to visually highlight a file replacement when an asset has been replaced with another file. This allows users to see at a glance whether a file has changed in content or not. This is particularly relevant when it comes to quickly finding out whether a particular file is in its latest version or whether it needs to be updated.
Secondly, changes in the metadata fields of an asset are now also automatically output. This allows users to track and document changes to an asset's properties in detail. This way, they can always track who made what changes to an asset and when they were made.
Adjustment of GRAY 2 RGB handling in case of wrong ICC profile